New Releases
From Fire & Ice YA Books!
---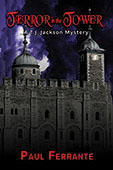 Off with their heads!
T.J. Jackson, LouAnne and Bortnicker have become international TV personalities for their ghost hunting exploits. But when they are summoned to Buckingham Palace to undertake a Royal investigation in the Tower of London, the stakes are raised and the pressure is on. Who exactly is haunting the Bloody Tower? The suspects are many, and it's up to the Junior Gonzo Ghostchasers to sort things out and crack the case. But how can three teenage Yanks from across the pond put a stop to centuries of murder, mayhem and madness in the world's most famous castle? They're about to find out that Olde England wasn't so merry!
---
Freshen year over, Marmalade's ready for some smummertime peace and quiet along with her favorite pastime, getting lost in good books and cozy cups of tea with Granny Blue. When the object of her affection, Luke, the all-star quarterback, notices her walking out of school and invites her to a party, Marmalade is shocked and starstruck. She barely recovers from this unexpected overture when she meets Bon-Hwa, the mysterious UFC fighter who inserts himself into her life as her new downstairs neighbor, taking over her second home in Granny Blue's Kitchen, forcing Marmalade out of her comfort zone. Marmalade is soon bouncing between broody, coffee shop Bon-Hwa and fun, flirty summer camp Luke, caught in a delicious tug-of-war.
As Marmalade struggles in the deep end with new love and longing, will her emotions get the better of her, or will she find the courage to choose the path that leads to her dreams? Will she flounder, tread water, or gracefully glide as a girlfriend, a friend, a novice poet, and a summer camp counselor, as she searches for her place in the universe.
---
Leisha knows something's wrong. Her beloved vocal coach at boarding school would never have resigned and disappeared like this in the midst of preparing her prize students for a major vocal competition. Leisha's determined to find her, make sure she's okay.
Cody, a sensitive cellist, insists on helping her. Sparks fly, clues multiply, and romance blossoms, despite the disapproval of their families.
Leisha's desire to be with Cody and pursue music rather than medicine puts her on a direct collision course with her African-American grandfather, the only parent she's ever had. But an even more immediate threat looms—because as Leisha draws closer to the truth about her teacher's disappearance, she puts her own life in grave danger.
---
Some secrets were never meant to be uncovered...
Maggie May Martin hasn't always been the most reliable woman in the world, and she isn't the friendliest either, but she tries her hardest to be a good mom. Most days, she falls short on that too, but her three girls mean the world to her and she genuinely tries to do the best by them—so when she goes missing, they're the first to notice and the only ones who seem to care...
Meghan Marie Martin hates the small town she was born and raised in and she can't wait until she leaves for the Air Force after graduation. Her only concern is leaving behind her irresponsible mother and her two little sisters. Meghan has practically raised them on her own and she only hopes that when she leaves for the military, her mother will finally pull it together.
The problem, of course, is that her mother likes to party, so when Maggie May goes missing, Meghan not only has to take care of everything at home, but she also has to search for her mother, because Maggie May has a bad habit of disappearing, so no one else is officially looking. That is until Meghan begins to receive mysterious messages, almost as if someone or something is guiding her to a haunted hotel in Manhattan, where people say an elevator game will take riders to the mysterious 13th floor. Some say it's an entrance to hell, others a portal to another dimension. Either way, Meghan must brave the game in hopes of discovering the truth behind her mother's disappearance.
---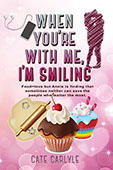 To Annie, food is love. Her Instagram baking account is taking off at the same time her Gran is losing her mind, her fitness obsessed BF is driving her away and Jess, her extra BFF, is fighting for his life...or is he just giving up? Add swoon worthy Miles Godfrey to the mix and it is all Annie can do to keep her own mental health in check and all the balls in the air.
Grab a cupcake and a tissue! Funny, intense, sweet and heart breaking, When You're With Me, I'm Smiling will bring all the feels.
---
Samantha P. has been full of wishes since the day she was born. When she discovers a magical wishing well that appears out of nowhere, she makes the life-changing wish for a crazy, wonderful, unbelievable romance.
Everett, a half-demon who's magically transported to earth by Samantha P.'s greatest wish yet, longs for the exact same thing when he first lays eyes on her. The catch? He's only allowed three days on earth at every full moon.
Samantha will have to leave her old life behind to attend a boarding school where she hopes to find answers for how to free Everett from an unfair imprisonment with the help of his very frightening all-demon father. Along the way she also uncovers some unsettling secrets surrounding school hauntings and a rather peculiar headmaster. Everything comes together in the end, requiring the greatest sacrifice of all from Samantha P. if she's going to save her beloved half-demon.
---
As Ruby is snatched away from Ravenshill prison, she ends up in more trouble than she thought possible.
The truth has finally been revealed, yet it seems the wrong people are in charge of this information. As she fights for her freedom, her captors have other ideas and as she's forced into a plan, like a cog in a wheel, Ruby soon comes to realise who her true self is.
Despite the disgust that comes with recognition, Ruby realises she must accept her true self if she has any hope of saving those she loves, and the entire world...
---
Ryan McDowell and Austin Bradshaw dream of playing baseball in college and they're good enough to have offers from the likes of LSU. But when the two best friends lose their parents in a triple hit-and-run motorcycle accident, they have little or no choice but to drop their dreams and go live with Skratch, Ryan's uncle.
Jimmie Santoro, aka Skratch, is also notorious for being the President of the outlaw motorcycle club, Asylum Brotherhood, the same club who's suspected in the homicides of their parents. Devastated, the boys walk away from everything they love and move into the MC clubhouse full of bikers. As Ryan becomes suspicious of Skratch's involvement in the accident, he turns to his girlfriend Cappi, whose dad is the Assistant State's Attorney and is also indicting the case. When Ryan and Cappi dive deeper into his parent's past, they find that his and Austin's dad weren't the men they'd claimed to be.
Can they escape the sins of their fathers, all while, finding the person responsible for killing their parents?
---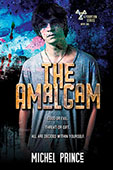 Genetics, radioactive spiders, mutation following tainted energy drinks. No one knows what triggered teens to suddenly get powers. Abilities emerge, first sought, then destroying lives with only one link between those effected. Their birthdays all end in double zeroes.
Riley Weston wished he could be an awkward kid in high school, but life had other plans. The aberration laws made all around him suspect until the wheel of fate turned to point her arrow at him.
At first, being labeled an aberration would get you locked away for the greater good. When it was discovered children born in the year two-thousand are the only ones getting powers, no one is immune. Even if your powers have yet to emerge. The government is set on owning all those in possession abilities.
For Riley, a camp, ran by aberrations, hides, trains, and keeps them safe. But the world wants their powers. To meld them into a force no army could defeat. Riley, and those like him, now walk the world scared, angry and afraid. Which is not the combo you want with unlimited powers.
Can Riley learn to control his gift before outside forces find him? Or before inside sources give away more than just him, but the whole camp.
---
I should have known the night we landed at Singapore's Changi Airport things would turn out badly. That something was already steeping in the thick, black Malaysian air like a tea ball of Darjeeling in a teapot. A something that would totally change my life forever.
Torn from her old existence in Florida, seventeen-year-old Brooke Bentley is forced to find new friends against a backdrop of intrigue, violence and revenge.
---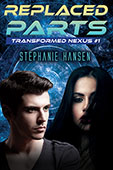 Replaced Parts by Stephanie Hansen In the year 2163 a corrupt World Government controls everything on our planet and beyond.
Sixteen year-old Sierra has been so caught up in her own world of saving animal test subjects and her father's disappearance, she hasn't paid much attention. When she finally finds his location, she and her friend set off on a covert interplanetary mission to rescue him, she begins to see the corruption first hand.
Discovering that her father has been on the front lines secretly trying to save human test subjects inspires her to join a revolution. But she is afraid of the collateral damage of hurting the people she loves. Will she find the strength to make a deal with the mad scientist Cromwell to save not just her friends and family but everyone?