Welcome to the brand new Fire and Ice blog. This has been a long time coming and we hope that you'll enjoy it and subscribe.
Watch out for brand new author interviews complete with giveaways.
For now, let's kick things off with this weeks releases!
~ * ~ * ~
Cry of the Sea by D. G. Driver
Juniper Sawfeather is choosing which college to attend after graduation from West Olympia High School next year. She wants to go to San Diego to be far away from her environmental activist parents. They expect her to think the way they do, but having to be constantly fighting causes makes it difficult to be an average seventeen-year-old high school student. Why do her parents have to be so "out there?"
Her feelings on the subject are changed when she and her father rush to the beach after a reported oil spill. As they document the damage, June discovers three humans washed up on the beach, struggling to breathe through the oil coating their skin. At first she thinks they must be surfers, but as she gets closer, she finds out that these aren't humans at all. They're mermaids!
Now begins a complex story of intrigue, conspiracy and manipulation as June, her parents, a marine biologist and his handsome young intern, her best friend, the popular clique at school and the oil company fight over the fate of the mermaids.
~ * ~ * ~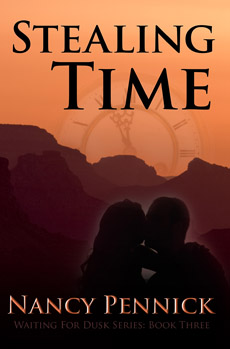 Stealing Time by Nancy Pennick
(Waiting for Dusk ~ Book 3)
Drew from the past… 
Kate from the present…
Two worlds collided.
As senior year comes to a close, a promise of new beginnings is on the horizon. Kate longs to head to Arizona and college until her former friend, Tyson, does the unimaginable forcing her to stay in Ohio. Her family has to pull together to keep their secrets safe. Anna wishes to return to the canyon in 1927 once more and Kate's determined to make that a reality. Summer's filled with wonderful memories and little warning of things to come. Kate's world grows darker and she must be the one to conquer the demons and save the world that is most precious to her.
~ * ~ * ~
The Cat That Went to Homecoming by Julie Otzelberger
The Cat That Went To Homecoming is the coming of age story of Ellen Jones, an overweight teenage girl from a single family home. She is under constant attack by her peers, bullied because of her weight and her family's poverty. Through volunteer work with her cat, Hershey, Ellen finds her self esteem and the courage to stand up to her bullies. Along the way, she discovers what true friendship and forgiveness are and tells us how Hershey became The Cat That Went To Homecoming.
"The Cat That Went To Homecoming addresses many serious social issues including family separation, bullying, homophobia, social isolation, and depression. The compelling story is also about fun, friendship, and forgiveness."

—Paula Scott-Ginn, Pet Partners Marketing Coordinator
~ * ~ * ~
Scarecrow on Horseback by C. S. Adler
Humiliated by an experience with her stepsister's horse Mel refuses to become a rider, but she loves horses. When her mother gets an office job on a dude ranch, Mel is happy to scoop poop and do other scut work just to be near her favorite animals.
The trouble is every time she bonds with a horse something bad happens. It seems she is jinxed, that is until she develops a relationship with a mustang that rich Mr. Jefferies has bought. Then Mel risks everything to make that wild horse her own.