---
The Sea Side Strangler is on the loose in Beach Point, where fifteen-year-old Cathy Banks is spending the summer with her aunt (who happens to be mystery writer Roberta McCabe.) Although thrilled to be away from her psychotic, divorcing parents, with no cell phone or internet access, Cathy is positive that her summer is going to be wretched. Just when she begins to make friends, and even finds a crush to drool over, her new friend Lauren vanishes. When a body surfaces in Beach Point Bay, Cathy is forced to face the question: has the Sea Side Strangler struck again?
---
SURF SHOP SISTERS
I guess everyone wants something in life. It was easy figuring out what each of my BFFs wanted the beginning of our Junior Year at Coral Cove High. For brainy Sudsy it was to get skinny; for upwardly mobile Tamara to get more stuff, and problem child Maria to be treated like she was older than ten.
TWho knew that bigger problems lurked in the swampy bayous of Coral Cove, like redheaded Paris Breck, threatening to take me, Brooke, down like a clump of stinky seaweed in the Gulf of Mexico.
---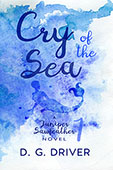 CRY OF THE SEA
Juniper Sawfeather is choosing which college to attend after graduation from West Olympia High School next year. She wants to go to San Diego to be far away from her environmental activist parents. They expect her to think the way they do, but having to be constantly fighting causes makes it difficult to be an average seventeen-year-old high school student. Why do her parents have to be so "out there?"
Her feelings on the subject are changed when she and her father rush to the beach after a reported oil spill. As they document the damage, June discovers three humans washed up on the beach, struggling to breathe through the oil coating their skin. At first she thinks they must be surfers, but as she gets closer, she finds out that these aren't humans at all. They're mermaids!
Now begins a complex story of intrigue, conspiracy and manipulation as June, her parents, a marine biologist and his handsome young intern, her best friend, the popular clique at school and the oil company fight over the fate of the mermaids.
---
ONION GIRL
Syd Callens moves to Augusta, GA six weeks before the start of ninth grade and her beloved father's funeral. She's overwhelmed by the city of 200,000, which compared to Vidalia, is a crazy-paced cultural mecca. Syd stubbornly withdraws, refusing to cry at her daddy's burial: "I didn't cry when he got sick and I didn't cry when he got sicker. I was only angry that he left me."
She wallows in grief, resisting help from her mother or anyone on the outside, including an extension of friendship from Seth, her first crush—a boy who's already spoken for and whose eyes look like the deep end of the pool. She also deals with the ensuing humiliation that comes when a girl realizes that everyone at school has mistaken her for a boy.
Syd feels an instant connection to Mel, a fellow oddball who clunks around Greenbrier in army boots and dresses. The attraction turns to mistrust however, when Mel divulges a secret Sydney takes for a lie. The girls are mere inches from forging a friendship but then Mel mysteriously disappears, leaving Sydney alone to wonder what happened and to face daily abuse from Greenbrier's two meanest bullies—Ashley and Megan.
---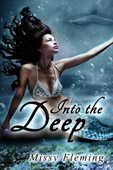 INTO THE DEEP
No one understands the fury of the ocean like Zoey. Ten years ago, she lost her leg in a freak shark attack. The night after her sixteenth birthday, she has yet to accept her awkward prosthetic limb or the fact she will always be different. Wary of the sea, and its hidden threats, she ventures to a bonfire at the beach. She's mesmerized by its awesome power, wondering what she ever had to fear, until a rogue wave sweeps her into the cool, salty water.
Zoey believed mermaids were creatures of legend, characters in silly children's stories, but it's hard to ignore the captivating tail that's suddenly appeared, or the sense of finally being whole. She abandons her life on land in search of answers about who she really is and where she came from. What she discovers is a kingdom full of intrigue and danger, as well as a royal father she never knew existed. Settling into her role as a mermaid princess, she learns her family is under attack, both on land and in the water. Raging storms swell up, threatening coastal cities, and sea levels rise practically overnight, endangering the lives of everyone she loves. Determined to stop the strange phenomena, Zoey becomes caught up in the race to track down what, or who, is responsible for the catastrophic events.
But, Zoey possesses another secret, one born of legend and more powerful than any mer or human can imagine.
---
TRAIL OF SECRETS
Spending three weeks of her summer at the elite Foxwoode Riding Academy in northern Michigan should have been one of the happiest times of sixteen year-old Brynlei's life. But from the moment Brynlei arrives at Foxwoode, she can't shake the feeling she's being watched.
Then she hears the story of a girl who vanished on a trail ride four years earlier. While the other girls laugh over the story of the dead girl who haunts Foxwoode, Brynlei senses that the girl—or her ghost—may be lurking in the shadows.
Brynlei's quest to reveal the truth interferes with her plan to keep her head down and win Foxwoode's coveted "Top Rider" award. Someone soon discovers Brynlei's search for answers and will go to any length to stop her. When Brynlei finally uncovers the facts surrounding the missing girl's disappearance, she must make an impossible choice—protect a valuable secret, or save a life.