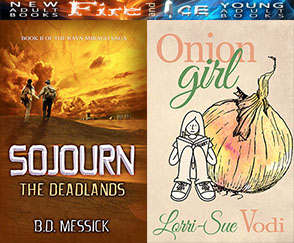 ---
A Rayn Mirago Novel #2
The Deadlands…
A wasteland of burning sun and shifting sands that stretches for more than a thousand miles from the foot of the Rocky Mountains to the Mississippi River. The once vibrant Great Plains of the central United States is a bleak and barren desert, a blasted landscape filled with sad reminders of what had been and what has been lost.
Rayn and Luk must brave the perils of this arid land of fierce beasts, savage sandstorms, and hidden dangers if they're going to reach the Beastlands beyond. They will encounter new enemies, and discover precious new allies.
Rayn's suspicions about the results of Luk's Sojourn Lottery continues to grow, but she must put those doubts aside if they have any chance of surviving what's coming. The Deadlands will push them to their breaking points while testing the strength of their bond.
Their only goal: Survival.
---
---
Syd Callens moves to Augusta, GA six weeks before the start of ninth grade and her beloved father's funeral. She's overwhelmed by the city of 200,000, which compared to Vidalia, is a crazy-paced cultural mecca. Syd stubbornly withdraws, refusing to cry at her daddy's burial: "I didn't cry when he got sick and I didn't cry when he got sicker. I was only angry that he left me."
She wallows in grief, resisting help from her mother or anyone on the outside, including an extension of friendship from Seth, her first crush—a boy who's already spoken for and whose eyes look like the deep end of the pool. She also deals with the ensuing humiliation that comes when a girl realizes that everyone at school has mistaken her for a boy.
Syd feels an instant connection to Mel, a fellow oddball who clunks around Greenbrier in army boots and dresses. The attraction turns to mistrust however, when Mel divulges a secret Sydney takes for a lie. The girls are mere inches from forging a friendship but then Mel mysteriously disappears, leaving Sydney alone to wonder what happened and to face daily abuse from Greenbrier's two meanest bullies—Ashley and Megan.
---