Finding Hope in Texas is a heartfelt story of a girl trying to find her way in life after the terrible tragedy of losing her family.  The difficulty of finding her way through her grief was made more difficult by the trials and tribulations of a high school student.  Hope's determination to making the most of her life is inspiring and thought provoking.
Author Jill Bisker interviewed Ryan Petty, the author of "Finding Hope in Texas." Read the interview below.
First, about the book:
How do you move on in your life after a horrible tragedy?

That's what Hope Kilpatrick must ask after losing her family in a horrible car accident right before Christmas. Unable to deal with the pain, she leaves the haunting memories of her New York home behind and escapes to Texas with an estranged aunt that is her only family.

Still reeling from her loss and the culture shock of her new home, she must also deal with a school bully that has set her sights upon her. Hope's only solace is the quiet girl at the vacant lunch table, an eccentric history teacher, and the introverted handsome young man she meets at a Texas parade. Finding Hope in Texas deals with the tragedy of loss, the sardonic struggles of teenage life, and the sanguinity in finding a special someone that will help her discover the strength to live again.
Jill: Introduce yourself to us.
Ryan: Well, I am a 33 year old high school history teacher.  I am married with two boys, all of which are the love of my life.  I have been doing Civil War reenactments for about 16 years.  And for my entire life, I have had to wear a brace on my right leg due to a doctor's mistake when I was born.  As for writing, Finding Hope in Texas is my second book, but my first young adult fiction.
Jill: So tell us what brought you to writing and in particular what brought you to Hope's story.
Ryan: My first book was because I was a reenactor.  I took the personalities I had met through reenacting and put them in an actual historical battle of the Civil War.  I had fun with it and it went on to win the Pinnacle Book Achievement Award.  I'm not exactly sure what started me on Hope's story.  A little of it had to be just to see if I could write in the perspective of a teenage girl, and I guess the readers can be the judge as to whether I did any good or not.  Hope to me is a fighter, a person that losses everything she knows and still struggles to continue, to start life over again as best she can.  She is the type of person I've always had respect for and I was happy to write a story for her and the many people like her.
 
Jill: One of your themes in the book is bullying which is a topic many teens have to cope with.  What advice would you give a student faced with this type of behavior?
Ryan: First off, tell someone.  Tell your parents, a friend, a teacher.  Tell someone what is going on because they can help you find a way out.  Never think you have to take on a bully alone or accept what they are doing to you.  And stand up for yourself.  It might be the most courageous thing you do, but you won't regret it.
Jill: If you suspect bullying is occurring with someone in your life, what do you as a teacher try to do to help?
Ryan: Well, I won't give away all my secrets, but I'll say I really dislike bullies in my school.  If I see it, the first thing I do is let all parties involved know I see it.  If it continues, then a bully has to see my bad side.  Whether it's going as far as getting parents and administration involved or just pulling the bully aside and giving them a stern talking to, I will make sure it ends pretty quickly.
Jill: I enjoyed the reenactment portion of your story.  If anyone is interested in getting involved with this hobby, how would you suggest they start?
Ryan: The easiest thing to do is just show up.  Attend a reenactment and talk to the men there and ask questions.  Most units are always looking for new recruits and will help people get into the hobby.  We all started somewhere.  For me, a captain handed me a loaded musket and let me fire it at the age of sixteen.  After that, I was hooked.
Jill: Besides bullying, what other themes did you want to convey to your reader with this story?
Ryan: I think getting over a loss is a big theme.  Hope's loss is horrible, but that doesn't mean that teenagers don't deal with it every day in their lives.  It's something that can only take time and that they must deal with themselves in their own way.  Another theme is a change in culture.  Hope is new to Texas and quickly learns that it's nothing like her Upper East Side home in New York.  Again, teenagers change schools all the time and many have to adapt to their new peers and surroundings, which can be tough at times.  And finally, I hope readers appreciate that Hope is intelligent, strong, and caring, and there is nothing wrong with being any of those things.  You should always do your best, no matter what life throws at you.
Jill: Hope moves to a new school with an entirely new life, where do you think she draws her strength from?
Ryan: It comes from her parents.  You can really tell that Hope has a strong tie with them and that they were a very big part in her life.  That is quite different from Jason, whom she meets during the story, whose parents were never around and hardly cared.  Hope and Jason have quite different backgrounds and yet they both begin to find strength in each other for what they had been through.
 
Jill: What was the most challenging part of writing of this story?
Ryan: Well, as a teacher, I've seen a lot of different ways on how teenagers act.  I think Hope was a different case entirely though, but I hope I was able to get as close to the teenage mind as I could.  It's been a few years since I was that age, but I hope the young adults who read my book will enjoy it and find a little bit of themselves in what I wrote.
---
Buy the book HERE.
Add to your GOODREADS shelf.
---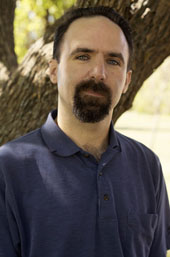 About Ryan Petty
Ryan T. Petty is a thirteen-year high school social studies teacher in a small town in northeast Texas and an adjunct history professor at a local junior college. He grew up in the country and started doing Civil War reenactments as a hobby at the age of sixteen, traveling across East Texas and surrounding states and participating in national events such as Shiloh, Chickamauga, and Gettysburg. He graduated from college with a master's degree in history in 2011. Finding Hope in Texas is his second novel. His first, a historical fiction, won the Pinnacle Book Achievement Award in 2012. Ryan is married to his wife, Megan, and they have two boys together.
Website: www.ryanpettybooks.blogspot.com
Facebook: www.facebook.com/ryan.petty.988
Email: ryan.petty@hotmail.com
---
About Jill Bisker
Jill Bisker lives in Stillwater, MN with her husband and a calico cat named Senora. She believes in empowering women to be strong enough to protect themselves, while still soft enough to be loving and compassionate. Her work includes paranormal mystery and traditional high fantasy, as well as contemporary and humorous fantasy and an everyday living blog. Her novella Within Reach is her first publication with Melange. Once a dedicated stay at home Mom, Jill now writes full-time.
Website: www.jillbisker.com
Facebook: https://www.facebook.com/authorjillbisker
Blog: http://www.unaccompaniedjaunt.blogspot.com
---
GIVEAWAY
Leave a comment below for your chance to win a free ebook copy of "Finding Hope in Texas" by Ryan Petty.
Winner will be chosen on (or shortly after) May 13, 2014.