Erin Elliott, author of the upcoming fantasy series. "The Sword of Lumina," stopped by to interview the oh so talented D. G. Driver about her new novel "Cry of the Sea."
Juniper Sawfeather is choosing which college to attend after graduation from West Olympia High School next year. She wants to go to San Diego to be far away from her environmental activist parents. They expect her to think the way they do, but having to be constantly fighting causes makes it difficult to be an average seventeen-year-old high school student. Why do her parents have to be so "out there?"

Her feelings on the subject are changed when she and her father rush to the beach after a reported oil spill. As they document the damage, June discovers three humans washed up on the beach, struggling to breathe through the oil coating their skin. At first she thinks they must be surfers, but as she gets closer, she finds out that these aren't humans at all. They're mermaids!

Now begins a complex story of intrigue, conspiracy and manipulation as June, her parents, a marine biologist and his handsome young intern, her best friend, the popular clique at school and the oil company fight over the fate of the mermaids.
~ * ~ * ~ * ~
Erin: Where did you get the inspiration for this story or when did you get the idea for it?
D.G.: When I originally wrote this book, I was in a writing frenzy, coming up with more ideas for books than I had time to write. I had been working on screenplays, novels and doing articles. The 10 year anniversary of the Exxon Valdez oil spill was all over the news, and the idea just kind of sparked into my head. It took a long time to go from there to the finished product. Interestingly, I originally called the oil company in the novel Effron, but I was told that was still too similar to feel safe, so I changed it.
Erin: Is conservation something that you personally feel strongly about?
D.G.: Yes. I like to keep my personal footprint small by conserving water and electricity. I don't litter; I do recycle. I use a refillable water bottle. Stuff like that.
Erin: Everyone has a different image when they hear the word mermaids, what made you choose the description for yours in your book?
D. G.: In this book I wanted to represent mermaids as if they were real creatures, not those of fantasy. If mermaids had actually evolved under water, they wouldn't be white-skinned girls with beautiful hair, wearing shells over their breasts. They would be a lot more like fish, I think. I also decided that they wouldn't be able to talk. That would hardly make sense, would it? So, I made my mermaids communicate more like dolphins with a touch of telepathy.
Erin: Are there plans for a sequel?
D. G.: I'm toying with it. My original plan was to create a series where Juniper Sawfeather encounters a different kind of mythological being in each book, rather than sticking with further adventures with the mermaids. I kind of liked the idea of it being an X-Files, Fringe-ish series for teens.
Erin: When did you decide that writing was something that you wanted to pursue?
D. G.: I've been writing since I was a child. I did it only as a hobby, as I really wanted to be an actress. I majored in Drama and was a professional actress and singer throughout my twenties in Los Angeles. I still do community theater here in Nashville. I wrote my first book, a horror novel, when I was in college and took both a playwriting class and a short story class in school. Soon after college I was asked to write a play for a children's theater, and that sparked my interest in writing for kids. I began seriously submitting my work after that and eventually started selling some. Once I turned thirty, I decided to focus on writing more than performing.
Erin: Is this your first published novel? If not, what are some of your other works?
D. G.: I published 3 middle grade novels around the turn of the century under my maiden name Donna Getzinger. That very small press was located in Florida and suffered some major losses after hurricanes in 2006. They couldn't recover, and those books are now out of print. Still in print are 3 of the 5 award-winning biographies I co-wrote about classical composers Bach, Vivaldi, and Handel and a nonfiction work called The Triangle Shirtwaist Factory Fire. I have also published a couple plays, many short stories, articles, and I've had 4 of my plays produced. Cry of the Sea is my first Young Adult novel and the first one I'm publishing as D. G. Driver.
Erin: Do you have other stories in mind for new books along the way? If so, care to share any blurbs about it?
D. G.: I have more ideas than time to write. Currently I am cleaning up two novels. One is a middle grade fantasy novel about a young surfer who encounters a dragon hiding in a cave on the North California shore. The other is a novel about a girl who is mistaken for a boy when she goes to visit her grandmother in rural Tennessee. She is invited to go along to the annual camp-out on an island in the middle of a vast lake. She gets lost trying to get there and then finds out that the boat she is in might be haunted. I originally wrote this as an upper middle grade book for boys, but I am reworking it to a younger end young adult and changed the main character from a boy to a girl to make it more interesting.
Erin: What advice would you give a new writer just starting out in this adventure through the publishing world?
D. G.: My main advice is to read a lot of the kind of book you want to write. Read the blockbusters as well as the little books to see what makes them different and try to evaluate why. I'm a big supporter of joining Society of Children's Book Writer's and Illustrators. They have lots of resources, wonderful support and great conferences both locally and nationally. I highly recommend Ray Bradbury's Zen and the Art of Writing and Stephen King's On Writing. These books were very motivational for me when I first started out. Most of all, write. Write junk. Write quickly and blast those stories out. Then put what you've written aside and go back and fix it later when you have fresh eyes. I'm doing a blog about rewriting on my web site. It's just started up, but I will be adding ideas, advice and examples of how to do it every week or two. www.dgdriver.com
~ * ~ * ~ * ~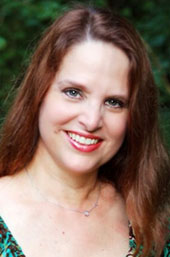 About D.G. Driver
D. G. Driver grew up in Southern California only 30 minutes from the beach. As a girl, she used to dream that magic would change her overnight into a beautiful mermaid. Alas, that never happened, but her love of the ocean never diminished. Even though she is landlocked in Tennessee now, she still only needs one whiff of sunscreen to bring her imagination alive. Thanks to the support of her husband and a sweet drawing of a mermaid done by her daughter that was taped on the wall above her desk to keep her motivated to finish, Cry of the Sea is now her first published Young Adult novel. A dragon picture hangs there now, so we'll see what happens…
Facebook: www.facebook.com/donnagdriver
Website: www.dgdriver.com
Twitter: @DGDriverAuthor 
Tumblr: d-g-driver.tumblr.com
~ * ~ * ~ * ~
I've been a preschool special education teacher for the last ten years. I've always wanted to be a writer and started writing stories and "books" when I was in high school. I have three books coming out, The Sword of Lumina series. I love spending time with my family, reading, summer and the sun. My lifelong dream is to live in Hawaii someday.
~ * ~ * ~ * ~
GIVEAWAY
Leave a comment below and you're automatically entered to win a free ebook copy of "Cry of the Sea" by D. G. Driver!
Winner will be chosen on or soon after April 6, 2014.
And don't forget, there's still time to enter to win the $10 Amazon gift card as well over on THIS post!