Caroline Akervik is the author of "A Horse Named Viking" and the latest, "White Pine: My Year as a Lumberjack and River Rat."
Fellow Fire and Ice author D. G. Driver, author of "Cry of the Sea" stopped by to have a chat with Caroline about "White Pine."
After Sevy Anderson's father breaks his leg in a sawmill accident, the fourteen-year-old must take his place with the rough and tumble lumberjacks and river rats who harvest the white pine forests of Wisconsin. The men of the Northwoods live hard and on the edge, and Sevy must prove his courage and his worth in the company of legends.

Will he become the man he so longs to be?
Will the other men ever accept him?
And will he even survive his first winter in the Northwoods?
---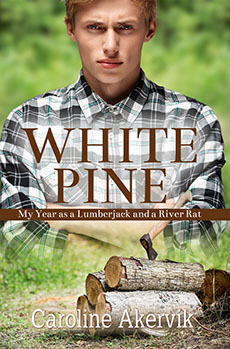 Donna: I love the use of the slang, jargon and slips of foreign words in the book. It's also really interesting how you slip them into the story without explaining them, allowing the reader to kind of figure it out. I know there is a glossary at the end, but it was fun to try to read the words in context and put it together. Could you tell how you learned all those terms? Also, why did you choose to use them the way you did?
Caroline: I wanted this story to be as historically accurate as possible. The men who worked the logging camps of the Minnesota and Wisconsin Northwoods were a cultural hodgepodge. One reason that they were not allowed to speak during meals was that there were concerns that miscommunications could lead to fights. So, to be accurate in the setting, I had to include the foreign words and jargon. Now, I don't speak most of these languages. Thankfully, my editor, Jessica Dall, was both creative and firm about getting the terms right and using them appropriately. I hope that we were successful.
Donna: I understand from your author's note that you did a lot of research into logging and the area up north. The book is full of details that give it so much life. Could you talk about your experience researching the book? Where did you find most of your information?
Caroline: This story was inspired by going with my children on field trips to the Paul Bunyan Logging Camp and the Chippewa Valley Museum with my children when they were each in third grade. I am not originally from Wisconsin. So, the history and the lore of the lumberjack era were all relatively new to me. On one of these field trips, I remember sitting in the bunkhouse with my oldest son, and we were looking at the boots and wool socks hanging up around the pot belly stove and my son said: "You should write a book about a lumberjack camp." I liked the idea and I was also intrigued enough to want to learn more about the era, itself.
I work as an elementary school librarian. We teach children how and why we research. With the kindergartners and first graders, I explain that we research in order to answer questions. And this was exactly what I did. That is, I sought to satisfy my own curiosity about what it was like to work in those white pine forests in the middle of winter and while separated from your family and friends. Then, I thought about what it would be like for a young person.
For my actual research, I read anything and everything about the era in both print and electronic format that I could get my hands on. The actual research took several years and fills two notebooks. I had to consider questions like what sorts of games would lumberjacks play, what they would wear, and even if they bathed over the course of the winter. I did my best to be historically accurate, and I have my fingers and toes crossed that I achieved that goal.
Donna: Still on research, were there any interesting things about logging that you learned that you didn't get to use in the book?
Caroline: That's a big question. I think of writing as being rather like sculpting clay. You have to give the sculpture shape and form and then keep removing that which is not needed. Now, I am not a sculptor, but this is how I imagine the process. You end up with a lot of clay on the ground. So, of course, there was information that I did not use. I was intrigued by the idea that some women accompanied their husbands to the logging camps, but this fact didn't work with the story. I would have liked to have spent more time on the river run. There is a great deal about life in the "sawdust city" of Eau Claire that I would have liked to include. But part of the writing process is cutting away the fat, removing that which does not add to the story. White Pine is Sevy's story, and I had to narrow my focus to that lens.
Donna: The book never says what year it actually is. It is clearly before cars, but could you say when the lumberjack era was?
Caroline: In Wisconsin, the lumberjack era extends from the mid to the late nineteenth century. I didn't want to get very specific about the year, because then I would be tied into specific historical events. I had some specific years in mind, around 1880, but I didn't want to be tied down to that year.
Donna: There is a great juxtaposition between green, young Sevy, and hardened, burly Roget. It is terrific how you keep us guessing if Roget will ever come to respect Sevy. Were these characters based on real people? Why did you decide to make the antagonist in your young adult story a grown man instead of another teenager?
Caroline: The book is intended for a boy audience. I truly believe that most books that are published today for middle grade or YA readers are intended for girls. When my son was fourteen, I remember taking him to the public library and telling him to check out the Teen section. He came back empty handed and when I asked him why, he explained that all of the books up there were about "vampires or werewolves." He just didn't go for fantasy or romance. As a school librarian, I am very aware that many boys are reluctant readers. They need exciting and adventurous fiction that is written for them as well.
Donna: There aren't many girls in this story, but the character of Adelaide and how Sevy reacts whenever she is around is precious. Did you always plan to have the little hint of romance in this "boy book", or did you add it in later drafts?
Caroline: The very first book that I ever wrote was a fantasy. I asked a college professor whom I liked and admired to read it. He wrote copious notes on the book and mentioned in them that he had read very few books in which there wasn't some sort of romance or love interest. That comment really resonated with me. I like a little romance or sparkle in what I read. Sevy, despite all of his adventures and his courage, is a typical fourteen-year-old boy. He knows he likes Adelaide, but he has no idea of how to behave around her.
Donna: In a lot of young adult books at least one parent is dead, or both parents are absent. Could you tell about how you got Sevy away from his parents and why you chose what happened to his dad?
Caroline: Immigrant families in the nineteenth century had to pull together and work hard in order succeed. Sevy's father supports his family by working at a lumberjack camp through the winter and at a sawmill in the summer. A sawmill was a dangerous place back then. So, what would happen to a such a family if the breadwinner was seriously injured and unable to work? Then, the fourteen-year-old son, in this case, Sevy, has to take his father's place and work a man's job. Sevy has to succeed in order for his family to survive. The stakes are incredibly high for him.
Donna: I think it's ironic that I have a book out about environmental activists, and I'm interviewing someone who wrote about logging. I think the sentiment in the final chapter is lovely and poignant. Is there anything you learned about the history of logging that you could share with us that is different from the way logging is done now? Is it more environmentally friendly now?
Caroline: I am deeply concerned about the environment and committed to conservation. I struggled with writing a book about logging as well. I knew that I wanted to have Sevy reflect on the wastefulness of the entire process, but that is a very modern mind set. Still, no matter how one feels about the act of logging or the industry, the spirit of those nineteenth century lumberjacks, their courage, and the exciting and dangerous lives that they lived make for compelling stories. These were remarkable people and they should not be forgotten.
That said, I didn't study twenty-first century logging. I would certainly hope that it is more environmentally sound today.
---
About Caroline Akervik
Caroline Akervik has been an avid reader since the fourth grade when a nun named Sister Dorothy introduced her to the magical world of Narnia. Caroline read anything and everything and was a particular fan of Marguerite Henry's horse stories and, especially, of King of the Wind.
Most of her early adulthood was spent as a professional horsewoman. She competed through the Grand Prix level of Dressage and worked with and trained many horses. Then, Caroline was blessed with a wonderful husband and three incredible children. Spending time with her own children motivated her to return to school to become a library/media specialist.
Now, Caroline shares her love of story and of the magic and power of words with the children she teaches. In her own work, Caroline seeks to write from the heart and to transport her readers and give wings to their imaginations. Caroline writes for young people, but agrees with C.S. Lewis that "A children's story that can only be enjoyed by children is not a good children's story in the slightest."
Blog: http://carolineakervik.blogspot.com
---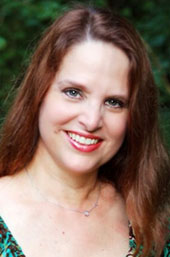 About D. G. Driver
D. G. Driver grew up in Southern California only 30 minutes from the beach. As a girl, she used to dream that magic would change her overnight into a beautiful mermaid. Alas, that never happened, but her love of the ocean never diminished. Even though she is landlocked in Tennessee now, she still only needs one whiff of sunscreen to bring her imagination alive. Thanks to the support of her husband and a sweet drawing of a mermaid done by her daughter that was taped on the wall above her desk to keep her motivated to finish, Cry of the Sea is now her first published Young Adult novel. A dragon picture hangs there now, so we'll see what happens…
Leave a comment below to be entered to win a free ebook copy of "White Pine" by Caroline Akervik.
The winner will be chosen on (or shortly after) May 4, 2014.
Don't forget you can also enter to win the $10 Amazon Gift Card
here
!