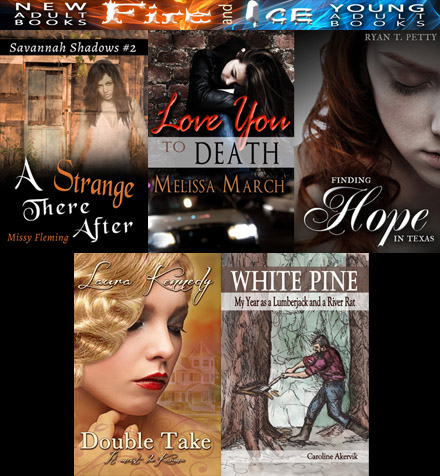 So many great new books for you today! (AND the chance to win a $10 Amazon Gift Card!)
I'm personally excited for all of them, but especially "A Strange There After," which is the sequel to "Happily Never After" and the second book in Missy Fleming's Savannah Shadows series. It's a modern day Cinderella…. with ghosts!
Fans of contemporary fiction will be interested in "Love You to Death" by Melissa March about a young woman running from her stalker – just reading the prologue has me excited to start reading this one.
For the contemporary romance fans, check out "Finding Hope in Texas" by Ryan T. Petty. Can Hope find love and acceptance after the loss of her entire family? I know I'm dying to find out.
Another contemporary fiction release is "Double Take" by Laura Kennedy. When Brooke's car breaks down and she seeks refuge from the rain, she meets a reclusive woman who believes she's a movie star from the 1950's.
Finally, for the historical fans, we have "White Pine: My Year as a Lumberjack and River Rat" by Caroline Akervik. When his father is injured it's up to Sevy to take his place with the Lumberjacks in the white pine forests of Wisconsin. Will he have what it takes?
Keep reading for more info on each book.
~ * ~ * ~ * ~
(Savannah Shadows #2)
Ghosts exist. Quinn Roberts knows this because she is one – kind of. The spirit of a dysfunctional ancestor, Catherine, has evicted Quinn from her own body, forcing her to live in a world with the paranormal. No one can see, touch or hear her, except the ghosts she grew up with and the bane of her existence, a self-centered paranormal investigator named Boone.
Forced to watch the growing bond between her boyfriend, Jason, and the body snatcher, Catherine, Quinn delves deeper into the history of her family in search of a way to reverse what's been done. What she finds is a dangerous entity more terrifying than anything she's encountered before. He's willing to grant all her desires…for a price.
As Quinn faces painful decisions and makes unlikely alliances, she learns how far she will go to get her life back. Desperation is a wicked thing and she soon realizes that recovering her body may only be the beginning of her end.
~ * ~ * ~ * ~
Seventeen year-old Arden Elliot is alone, barely surviving life on the streets. All she wants is a place to call home, somewhere she can be safe.
After meeting Det. Cass Bateman, surviving is exactly what she will need to do. He dominates her world, steals her spirit and breaks her body. All in the name of love. She knows if she stays, one day he will love her to death.
On the run she meets Gideon, a Kentucky cowboy. She tries to resist the power of her heart, knowing she doesn't have the luxury of falling in love, but just when she thinks her life is finally secure, her past comes calling. Now she will have to decide whether to confess everything to her new family or leave them safely behind to run again.
 ~ * ~ * ~ * ~
How do you move on in your life after a horrible tragedy?
That's what Hope Kilpatrick must ask after losing her family in a horrible car accident right before Christmas. Unable to deal with the pain, she leaves the haunting memories of her New York home behind and escapes to Texas with an estranged aunt that is her only family.
Still reeling from her loss and the culture shock of her new home, she must also deal with a school bully that has set her sights upon her. Hope's only solace is the quiet girl at the vacant lunch table, an eccentric history teacher, and the introverted handsome young man she meets at a Texas parade. Finding Hope in Texas deals with the tragedy of loss, the sardonic struggles of teenage life, and the sanguinity in finding a special someone that will help her discover the strength to live again.
 ~ * ~ * ~ * ~
When sixteen-year-old Brooke Bentley's green convertible and cell phone conk out during a tropical rainstorm, she believes it's just bad luck. But when she darts through the dark to a dilapidated Victorian she thinks is the home of a friend and is invited in by a butler in a faded black tux, Brooke knows it must be karma. Because how often do you meet a reclusive 1950's movie star who thinks she's actress Terry Moore? And how often does someone as charming as eighty-year-old Laura de France insist on transforming you into a movie star, too? How can something as simple as a dress control your life? It can if it's the famous green toga worn by actress Elizabeth Taylor in Cleopatra and you'll do anything to wear it.
"Reading 'Double Take' reminded me of my teen years at MGM studios where I had the good fortune to go to the Little Red School House with such young talent as Judy Garland and Mickey Rooney."
– Sharon Randall, formerly Janice Chambers, ninety-year-old singer/actress.
 ~ * ~ * ~ * ~
After Sevy Anderson's father breaks his leg in a sawmill accident, the fourteen-year-old must take his place with the rough and tumble lumberjacks and river rats who harvest the white pine forests of Wisconsin. The men of the Northwoods live hard and on the edge, and Sevy must prove his courage and his worth in the company of legends.
Will he become the man he so longs to be?
Will the other men ever accept him?
And will he even survive his first winter in the Northwoods?
 ~ * ~ * ~ * ~
Giveaway!
Enter to win a $10 Amazon Gift Card!
It's so easy, simply sign up to receive blog updates by email and fill out the form below. By being a subscriber to our blog you'll also have a chance to win a free ebook (or other prize) every month simply by being a subscriber!