Hi, Caroline Andrus here, web designer/cover artist/acquisitions editor for Fire and Ice. I'm here with Nancy Pennick today to have a chat about her "Waiting for Dusk" series. Just this week we've released "Stealing Time," the third book in the series.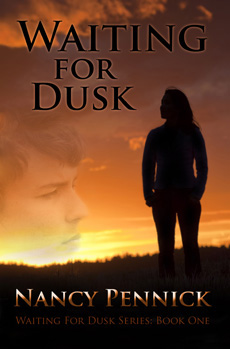 What inspired you to write a book series about time travel?
Visiting National Parks became a recent passion. My husband and I had just returned from the Grand Canyon. A PBS series about National Parks was going to air and we decided to watch. My mind drifted to another place. I began thinking about the recent park visit, the history I just watched on that show and how fun it might be to have a young girl move between the past and present. I had no intention of writing a novel. So it literally happened overnight.
Waiting for Dusk slowly grew and changed into a time travel novel in my mind. My original idea included a dream world and reality. As I continued on, I thought, "Why not make this real?"
Which character in the series is most like you and why?
Katie. I used things that happened to me in the past when I was her age, embellishing them, of course! Tyson is based on someone I dated; Anna and Lindsey are very much like my best friend all rolled into one. I think we are all a little self-centered at that age and are just learning about ourselves. Hopefully everyone will see how she changes in Stealing Time.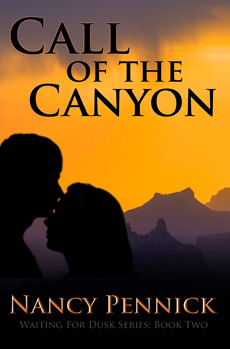 How did you come up with the series title, "Waiting for Dusk" and the title for your newest release "Stealing Time"?
Waiting for Dusk was the only title that came easily to me. Searching for a title is one of the most difficult things for me. Katie had to wait until the sun set for the book to work and take her back in time. Maya tells her she has to wait for dusk. The title jumped out at me before I started writing the book.
For the other two books, I began writing them before I had the titles. Call of the Canyon came about when Drew revealed he was having dreams about the Colorado River. He said it seemed to be calling out to him as if he had unfinished business at the canyon.
Stealing Time was the hardest of all. It wasn't until I had Anna jumping around in her boardinghouse bedroom saying she felt like a thief in the night that it came to me. Traveling through time was like stealing time. You return to the present the exact moment you left but you've had all these wonderful adventures.
Aside from your book series of course, which book is your favorite about time travel?
A Wrinkle in Time by Madeleine L'Engle
The Time Traveler's Wife by Audrey Niffeneger
Daughter of Time: A Time Travel Romance by Sarah Woodbury (Self-published)
What about your favorite movie about time travel?
Somewhere in Time –Christopher Reeve plays the main character, Richard, who hypnotizes himself to go back to 1912 to meet Elise (Jane Seymour) again. This movie was also based on a novel. I remember watching the movie a long time ago and it always stayed with me.
I can't wait to see A Winter's Tale that was released this month. There appears to be time travel from Victorian to Modern times.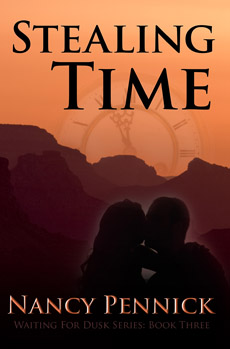 Do you have a favorite scene from "Stealing Time"?
Yes, I do. My favorite is one I can't reveal because it would be a spoiler. It's at the end of the book. When you read the book, here's a clue. It has something to do with Drew and his family. I also give a shout out to Doctor Who (for those of you who watch the BBC series) in a fun way after those scenes, too. I'm interested to see who notices.
Another scene that I can tell you about is when Kate and Drew go to New York City in 1927 to visit his parents.  During that journey, Kate's eyes are opened for the very first time. She learns life is not always perfect; there are bumps along the way. At that moment, she grows up.

Do you think you'll write more about Kate, Drew and the rest of the gang from the Waiting for Dusk series?
I want to and would love to know who or what readers would want to know more about. I'm playing around with an idea- a novella about Lucinda and Anna. It would be historical romance- no fantasy.
The "Waiting for Dusk" series takes place much of the time during 1927 at the Grand Canyon. How did you choose the location and year to travel back in time to?
The generations in my family are very spread out. My grandmother had children in her late thirties. My own mother didn't have me until forty. So I grew up with lots of pictures from that time period. Pictures that didn't get lost through generations. They went directly from my grandmother to my mother to me. My grandparents emigrated from Sweden, went through Ellis Island and had Swedish accents. They were raising their family in the 1920s.  I didn't hear stories about great-great grandparents like most people did.  I had people in my life that actually had those experiences.
The Grand Canyon was in the right place at the right time. I had just visited and learned so much about it. It seemed like the perfect place. There's something magical about it, especially when you stand on the edge taking it all in.
Which character has been the easiest to write and why?
I actually have two. Lindsey and Anna. I split my best friend's characteristics between the two. The sense of fun was given to Lindsey. She shows up ready to break into Maya's house dressed in black, hoodie pulled over her head. Anna has the forgiveness and compassion of my friend. Anna realizes everyone has flaws, even herself. She accepts people as they are.
Which character has been most difficult to write and why?
Tyson has been the most difficult to write. I find many people either love him or hate him. He's the antagonist in all three novels. I wanted to write him as a flawed sixteen year old boy who is spoiled and always gets his way. He grew darker as I wrote. I didn't want to go too far that I couldn't use him in the future. In Waiting for Dusk he became a stalker. In Call of the Canyon he steps over the line. In Stealing Time he tries to redeem himself, but can a bad boy ever really do that?
What do you want readers to take away from your book?
I hope they take away a sense of loyalty and love. Keep your friends and family close. I want them to see there's always a way out of things, to rely on yourself but don't ever think you have to do everything on your own.
If the "Waiting for Dusk" series was made into a movie, who would you like to see playing Kate and Drew?  Do you have anyone you imagine playing any of the secondary characters?
Good question. I've thought about this a lot. It's harder than you think to choose. I've finally came up with these two actors.
Drew would be played by Steven R. McQueen – Jeremy on the Vampire Diaries
Kate would be played by Emma Roberts – We're the Millers, Nancy Drew and many other movies
Secondary characters?
When I began writing Katie's dad, I pictured Alex O'Laughlin who plays Steve McGarrett on Hawaii Five-O. I felt he could easily go between the centuries as Jack Woods the twenty-eight year old in 1927 and the forty-something father, Jackson Roberts, in the present.
The older Maya was always Alfre Woodard. I hope she has a daughter that can play the younger Maya! She's been in many movies and TV series- most recently 12 Years a Slave and the HBO's True Blood.
Tyson, Katie's one-time friend and nemesis in the present, would have to be someone like Alex Pettyfer (I am Number Four).
Emma Watson (Harry Potter) would make a great Lindsey, but she'd have to lose the accent!
For one of Katie's best friend in the present – Jordyn- you may have to Google Zhang Ziyi (China)
Now let's pause for a moment and pretend that your characters are real. I mean, as I read the series, they became real to me!
Drew, what is the hardest adjustment from living in 1927 to living in the present?
Since I came directly from 1927, I missed many decades of history and technology. Still playing catch up. Not getting to see my brother and sister grow up is tough but I can go back in time to see them whenever I want. They'll just always be fifteen and eleven in that never-ending year of 1927, but it's better than never seeing them again.
Kate, how scary was it waking up in 1927 that first morning after reading The Book?
I wasn't as scared as confused. The dream was so real I had to convince myself it was just a dream. When I continued going back night after night to the same time and place I felt as if my world was spinning out of control. I had no one to talk to and if I did, would they believe me? That part was the scariest.
And now just some fun, random questions for Nancy.
Are you the type of person who makes their bed in the morning? Or are you like me and feel that it's pointless because you're just going to sleep there again the next night.
I partially make it? I straighten the bedding and pull up the comforter but leave the shams and decorative pillows stacked on the floor.

What is your favorite part of the publishing process?
I love when I get my cover. It makes it all seem real. The cover artists at Fire and Ice are great and open to working with the author to get just the right look.
Have you done any book signings? If so, how was the experience? If not, do you plan to do any soon?
I haven't done book signings but have been invited to book club meetings. People brought their books to be signed. Still learning the ins and outs of promotion. Would love to do a book signing in the future.
Are you a part of any writers groups? If so, what does your group do at the meetings?
No, I'm not. I do have people that read my first drafts. I want critiques.
What do you do when you get writers block?
I do something else, even if it's still writing. I have a blog and other story ideas to work on. Rereading what I've already written helps, too. Reminds me of where I was going and gets me back on track. Sometimes I have to leave the writing alone for a day or two. Listen to music, have a cup of tea, clear my head. Most of my stories swirl around in my head so that's a little hard to do!

What book are you reading right now?
I just finished reading The Night Circus by Erin Morgenstern.
 What was your favorite book or book series when you were a teenager?
I loved so many books, it's hard to pick one. I read To Kill a Mockingbird and also Animal Farm in school. Those books and their message always stayed with me. I loved Little Women and anything written by Beverly Cleary. Her Henry Huggins series and Ramona books are timeless. Then there was The Incredible Journey, the story of three pets trying to find their way home.
 * ~ * ~ *
And now, for your enjoyment, a few excerpts from the books in the series.

Waiting for Dusk (book 1)
Katie glanced over at the hotel, and leaning against the wall in the shadows was a boy about her age. She got up and walked toward him. She'd show him. Who was he to laugh at her? Look at all the eggs in this basket. She didn't break one during her getaway.
The closer she got to him, the more clearly she saw him. He wasn't a boy but almost a man. The cliché "tall, dark and handsome" fit him. His dark brown, wavy hair was long on the top, and shorter on the sides. A strand of hair fell into his eyes. His eyes sparkled and locked onto hers. Her legs felt like mush, and she stumbled. He reached out and caught her.
"Are you okay?" His voice was kind, concerned.
Katie tried to gain her composure. "Yes, yes. Are you one of the vacationers? Because if you are, I shouldn't be talking to you. It's against the rules." Rules? What am I thinking? It's my dream after all.
"No. No I'm not. I work here at the park doing an internship. My name is Andrew, by the way. Andrew Martin."
"I'm Kathryn, but everyone calls me Katie."
Andrew's brows crossed. "Katie doesn't seem to suit you. I think I shall call you Kate."
Katie thought Andrew was a little full of himself, deciding a new name for her.
"Then I shall call you Drew." She shot back.
"Drew, it is then!"
Kate found him charming. He had a strong laugh and a beautiful smile. It was hard not to stare at him—something she was good at, according to her mother. She felt she would never get tired of staring at him. She wanted to reach out and brush back the piece of hair that fell over his forehead.
Katie blinked and brought herself back to earth. "I need to get these eggs into the kitchen."
"By all means, don't let me hold you up. It was very nice to meet you, Kathryn, Kate."
"And you, too, Andrew…Drew." Katie started for the door.
"Kate. Are you staying at the boarding house by chance?"
"Yes. Yes, I am." She blushed and went inside.
  * ~ * ~ *

Call of the Canyon (book 2)

Jack's voice interrupted Drew's thoughts. "Before we head to the boardinghouse, I want to make sure this is what you want to do. There's no turning back once everyone's informed you were lost to the river. Your timeline ends right now in 1927 just as it always has. There's still time to change your mind and live out your life here."
"If Kate's in the 21st century, then that's where I want to be." Andrew shook Jack's hand. "Take me to her."
  * ~ * ~ *

Stealing Time (book 3)

"Senior prom," she said aloud to the empty room. "Who thought my date would be someone I met in 1927?"
There had been no tears in weeks. She knew she shouldn't have kept things to herself, but she wanted the family to think she was okay after what happened at the canyon. At times she had trouble shaking the feeling she didn't exist. No one would remember a Kate Roberts lived on this earth…because she hadn't. She told no one about the episodes, deep dark depressions that swept over her. Her heart would pound, and her stomach clenched into a tight ball making it impossible to eat. Dreams sent her back to that time and place more than once. Drew's cabin at the Grand Canyon. 1927. The last day of the year. The dreaded clock ticking in her head. She'd dream she was in a room, and no one could see her. She'd call out to people. They'd look right through her, as if she didn't exist. She'd wake, crying and have to convince herself she was safe at home with Drew and her family.
   * ~ * ~ *
Stealing Time (book 3)

Kate's head spun from the shock of it. She felt Tyson's arms slip around her, pulling her close. It reminded her of her dream, when he was kissing her. For a second, she kissed him back almost like a reflex. Coming to her senses, like in the dream, Kate pushed him away. He wasn't Drew. This was Tyson being Tyson.
"What do you think you're doing?" Tears filled her eyes as she struggled for control.
"Showing how much I love you. I'll never get another chance before we go our separate ways." He stepped toward her, and Kate took another step back.
"No! Don't start this again. I thought we had things settled. We're friends."
"Yes, we're friends." Ty wrapped her in a bear hug and kissed the top of her head. "Friends…for now. One day, you'll come to your senses."
He let her go and headed back to the dance. She stood motionless, trying to regain her composure. The last few months had been just a scam so he could lure her into his trap. Kate hoped she wouldn't always be that naïve.
  * ~ * ~ *
About Nancy Pennick:
After a great career in teaching, Nancy found a second calling as a writer. Her debut novel, Waiting for Dusk, was a surprise to her as much as it was to her family. Watching a PBS series on National Parks, her mind wandered to another place and that is where the characters of Katie and Andrew were born.
Nancy's called Ohio her home for all her life but loves to travel the U.S. She enjoys reading and writing young adult novels with a good cup of tea nearby.
Visit Nancy online:
Fire and Ice Author Page: http://www.fireandiceya.com/authors/nancypennick/index.html
Facebook: https://www.facebook.com/nancypennickauthor
Blog: http://nancypennick.wordpress.com
  * ~ * ~ *
About Caroline Andrus:
Caroline is a web designer, book cover artist, Kindle formatter, acquisitions editor, wife and mother of 2. She has recently finished the first draft of her first young adult novel, bringing her that much closer to her goal of being published before the age of 30.
Visit Caroline online:
Website: http://candrus-designs.com
Facebook: https://www.facebook.com/CarolineAndrusDesigns
  * ~ * ~ *
Giveaway
Leave a comment on the blog and you'll automatically be entered to win the "Waiting for Dusk" book of your choice, plus 3 runners up will receive a "Waiting for Dusk" bookmark.
Winners will be chosen on March 7, 2014.