A Girl Named Cricket
---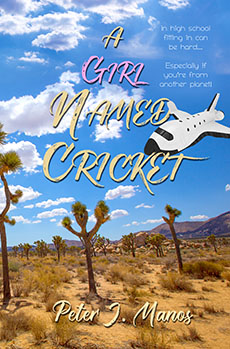 Though their planet is dying, Cricket Sminth is still furious at her parents for having tricked her into leaving home. What's more, in the form of a sixteen-year-old girl, she is now forced to enroll in high school in the little desert community of Prickly Pear, California.
Cricket's disdainful behavior makes enemies of everyone in town including Claudia, the mayor's daughter, and Tom, the one-armed boy she's strangely attracted to. To make matters worse Immigration and Custom Enforcement has begun investigating the Sminths.
But the biggest danger by far is Levi Barker, motorcycle gang leader, who has taken an unwelcome interest in the odd girl.
---
BUY THE BOOK

GENRE

Sci-Fi
Fantasy
Re-telling (Peter Pan)



Available
February 2018
Teens
---
Excerpt Coming Soon