Love You to Death
---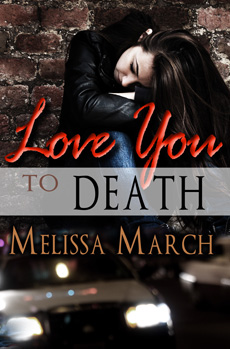 Seventeen year-old Arden Elliot is alone, barely surviving life on the streets. All she wants is a place to call home, somewhere she can be safe.
After meeting Det. Cass Bateman, surviving is exactly what she will need to do. He dominates her world, steals her spirit and breaks her body. All in the name of love. She knows if she stays, one day he will love her to death.
On the run she meets Gideon, a Kentucky cowboy. She tries to resist the power of her heart, knowing she doesn't have the luxury of falling in love, but just when she thinks her life is finally secure, her past comes calling. Now she will have to decide whether to confess everything to her new family or leave them safely behind to run again.
---
---
Prologue
Present day...
I covered my mouth with both hands to silence the sound of my breathing. My lungs were burning. I cowered behind a mountain of stacked hay bales. Where was Gideon?
God, I prayed, please let him be all right.
I shifted to the left—carefully, so I wouldn't make any noise—and peeked around the side. The barn door was still closed. My labored breaths had calmed a little, enough that they weren't echoing in my ears. The rusty hinges on the barn door squeaked. I froze. Instant tears of pure terror ran down my cheeks. The door slapped shut, a muted clap of wood on wood.
"Come out, come out, wherever you are..." he sang.
Chills raced up and down my spine. He sounded as sick as he really was. I curled into myself, trying to become small enough to disappear. His shoes made a scraping noise on the concrete floor. I could hear him checking the stalls as he walked. One of the horses snorted their disapproval, probably Lola.
I calculated his position: still closer to the door than to me.
"I'm not gonna hurt you," he called out. His raspy smoker's voice carried across the barn.
I knew he was lying. I knew he didn't mean it. As soon as I surrendered I was a goner. Not dead, but I'd wish I was.
There was a twelve gauge hidden in the feed barn, if I could get to it.
"I always hated hide and seek," he said. "I'm too good at seeking. It's too easy for me." He wasn't lying. His detecting skills were as good as a bloodhound.
I could tell he was much closer than before. I almost whimpered, mashing my lips together to keep silent. I thought of Gideon, my sweet Gideon and his beautiful smile and those big brown eyes that were always filled with such love and tenderness. If I concentrated hard enough I could feel his strong arms around me. I could almost smell the peppermint of his breath as I thought of him whispering in my ear, "Don't worry."
"I'm losing my patience," he snapped then added sweetly, "come on sweetheart, come out where I can see you. I just wanna talk."
Yeah, right. Talking was usually punctuated with slaps and punches.
He was to my right. If he kept coming around that way, I might have a shot at making it to the door. I inched my way around the piles of hay—slowly, so I wouldn't make any noise.
"What do I spy with my little eye?"
He was behind me. The hay still separated us, so I knew he couldn't see me. Who did he see?
"Ah!" He cried out. I heard hissing and then his cursing. "Stupid cat! Get it off!"
Good girl, Esmerelda! Finally, the cat was good for something. I hoped she scratched his eyes out.
I took the opportunity and ran full out for the door.