An End of Ever After Novel
Heart of a Hunter
---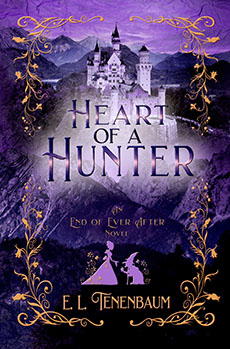 Daimyon was raised with one purpose: dedicate his life to his queen and kingdom by becoming an elite Huntsman. It's all he's ever wanted, and, under his father's tutelage, he commits himself body and soul to achieving it. Soon, Daimyon becomes the youngest-ever Huntsman and begins his service with the certainty that his life is just as it should be. So, when he's called before his queen and given a direct order to kill a traitor to the Crown, he has no reason to suspect he won't carry out his mission quickly and quietly.
Then Daimyon learns the startlingly truth of his target's identity and can't bring himself to kill her. With this unintentional rebellion, Daimyon has no choice but to go on the run from the queen he's given his life to serve. The queen, however, intends to finish the job he couldn't and exact revenge on her disloyal Huntsman.
Fearful for the lives unintentionally tangled with his, Daimyon must now determine what's more important to fight for, the oath he swore to his queen or the princess who caused him to break it.
Heart of a Hunter is the fifth in the five-part End of Ever After companion series which rewrites classic tales of ever after.
---
---
End of Ever After
Once upon a time, I was naïve enough to think I would happily live out my life as nothing more than a Queen's Huntsman. Some kings set round tables, others design cabinets or chambers to assist their rule; the queens of Calladium keep an exclusive cadre of highly trained Huntsmen. There is no greater service to the realm, no greater sacrifice a man can make than to commit his life to Her Majesty. That was my father's dream for me. I heard it in his voice every time he called my name and saw it in the decisions he made in my upbringing. In looking toward the future, that was the only image to ever fill my vision, and there was never cause or hint to think it would be otherwise.
One: I loved the outdoors, the noise, the rush, the intricacy of nature, the whisper of nimble paws in dirt, the flutter of hidden wings amid canopies of leaves.
Two: I loved the training, the thrill, the pain, the challenge, and especially the promise of enhanced abilities I would gain for pledging my life to the service.
Three: I loved my kingdom; always have, always will. Nothing can dislodge Calladium from my heart, ever. I will not reject her because of those who once ruled her, those who mucked my father's vision for my bright future, nor will I abandon her after she forcibly wrenched my life out of my hands and replaced it with one I never asked for.
Four: I only ever wanted to be like my father, only ever wanted to dedicate my life to my queen and serve alongside him as the most elite of her men. And I did until the betrayals, both hers and mine.
For once I met the young princess, my entire life, with all that I'd given for it, with all that I'd built for it, was thrown into disarray. One look, one plea, and I thoroughly smashed to bits the only life I'd ever known and wanted. It may have been a moment of weakness. It may have been a moment of strength. Some days I'm still not sure what stayed my hand and threw my ambitions away. All I know for certain is that I cast away the life I was intended to lead so that hers would not be forfeit.
Because, odd as it may seem for a Queen's Huntsman—a dangerous man possessing a singular focus for fulfilling his queen's will—a heart, of all ungovernable and unrefined things, beats at the center of my story.
While it may seem obvious, considering the queen's unsettling focus on one particular heart, this is of a different kind.
The heart that betrayed me, the heart that saved me, was my own, a troubling thought because it should have been quieted for good the day I joined the queen's service, the day when the only heart that was supposed to beat in my chest was Calladium's.
I couldn't have become a Huntsman had it been otherwise.
I couldn't have achieved so much at so young an age if it was. I was destined to serve my queen as her Huntsman, not her husband.
But I let my heart get in the way and it overtook my life completely.
None of this was ever supposed to happen.